We Know Real Estate.
Download our comprehensive guides, free! You will receive a clear picture of everything you need to consider as a buyer or seller in any real estate market. Get more informed today by requesting our guides below!
Learn more about
Top 10 things you need to know before selling your home, including tips for low cost improvements for a better selling price. Discover how you know when it is right to make a repair, and knowing when and how to invest in your house. A complete step-by-step breakdown of real world facts vs. real estate reality TV shows, comparing and contrasting the differences. The Seven Steps to owning a home, and how to maximize the success of your transaction every step of the way.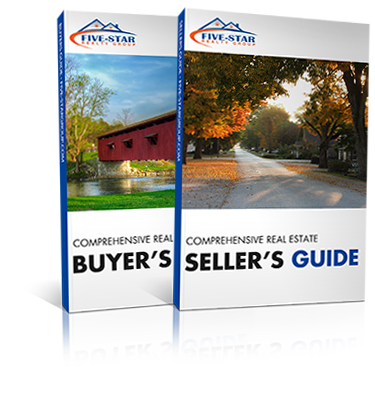 Download the guides below or ask our team a question!
Contact Us
SEE WHAT OTHERS ARE SAYING
Five-Star Realty Group is The Real Deal...
I can tell you that Five-Star Realty Group is the real deal. We initially tried to sell our home on our own, which resulted in nothing but endless calls from realtors instead of interested buyers. The buyer interest we did get ended up being tire kickers, people looking for a rent-to-own arrangement, or folks simply wanting to offer us well below market value. It was frustrating to say the least!
I had received information from Five-Star Realty Group a few times before finally reaching out to hear how they might be able to help. Truth be told, I read one of Jim's books and while I am far from tech savvy I attempted to implement some of his strategies on my own. Their approach to selling real estate is like nothing I have ever seen or experienced. After deciding to hire a Realtor I wanted the most bang for my buck and this company more than delivered. Jim went well above and beyond and I never paid a penny extra for his all-inclusive premium service. Our home even had its own dedicated website that looked very impressive and was visited quite frequently! They walked me through everything they were doing from beginning to end and we had an accepted offer, at full market value, within 7 days – I was floored and now tell everyone about them!
David McKenna
,
Fishers, IN
I Was Very Skeptical After Many Failed Attempts To Sell...
I had my home on the market with a few realtors over the course of a year. Each time my listing expired I would have several realtors sending me information. When I received Jim's information it caught my eye, it was different. To be honest, I was very skeptical about working with another realtor after repeatedly having disappointing results. I decided to give Jim a shot and I must say his approach and personality were more than refreshing. I found Jim to be someone who genuinely cares and he never made false promises. More importantly, his marketing expertise and plan really works! He never sat around after my house was on the MLS waiting for a buyer. He worked aggressively to drive interest to help me sell for the most money. He's much more technologically advanced than anyone I had dealt with and most of all he has integrity, he does what he says he will do. When I need to sell or buy another home I look forward to working with Jim again.
Sandy Baten
,
Indianapolis, IN
We Were Thrilled With The Outcome...
We worked with other realtors for almost a year and a half with only one so-called offer, and it was a little sketchy at that. Jim and Five-Star Realty Group implemented their blitzing sales strategy and things finally began to happen. I loved the large amount of exposure we received right out of the gate and how Jim worked hard to brand our home's unique characteristics. We started getting offers almost immediately and before we knew it our house was sold. Everything was done for us leading up to closing and it was painless! We were thrilled with the outcome and only wish we would have known about Jim sooner.
Prior to selling we had figured out what our bottom line needed to be and were even more excited that we sold our home for more than we had expected. If you want your home sold quickly, using all the latest technology, then Jim is your guy! Trust me when I say you will be amazed by his approach and expertise!
Glenn & Debra Meyer
,
New Albany, IN